The below highlighted example is an attempt to try and allow clients to visualize a specific ozone generator application setup. This example represents one of many different possible applications.
---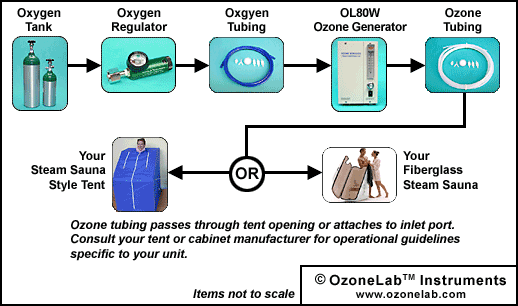 Ozone Services no longer supplies steam sauna tents or cabinets. Please contact your specific manufacturer for operational guidelines specific to your unit.
---
Helpful Suggestions
Space & location:
Most steam sauna units require at least 6x6Ft of space, preferably 8x8Ft. Steam sauna units should not be located near windows or doors, closets, heating units, etc. which will restrict the access to the steam sauna or steam generator control panels. Keep also in mind that people using steam sauna will be naked, therefore saunas should be located in area where people will have privacy. At the same time it is important to make arrangements which will address the safety and different needs of clients during treatments - getting drinks, etc.
Plumbing & water quality:
Steam Generators producing steam for should be filled with pure water with low or no mineral content. It is important to realize, that excessive accumulation of mineral deposits inside steam generators may cause failure of these devices. For this very reason we recommend to use distilled water for steam production.
Protection against humidity and water spills:
Every time when door of steam sauna is being open (while sauna in operation), steam is released from the sauna cabinet. Consequently, area where steam sauna is located should have reasonable ventilation. At the same time, frequent handling of water required for steam production may result in the damage of flooring unless floor is properly protected.
---